Last time I spilled about my intent to go more natural with shopping and cooking and things, even if *gasp* I have to pay more!
This week I plan to experiment with 2 soup recipies. I'd like to have them on hand for cooking, and prefer not to buy the canned soups - however inexpensive - because I just don't know what's in them. GMO tomatoes, excessive salt and sugar (excuse me, 'fructose'), and corporate-engineered preservatives to be sure. But that's only the stuff I know about...
Disclaimer: I drink pepsi, and eat chips and buy boxed pizza.
Just getting my boots pointed in a healthier direction.
And it starts with one little bitty recipe at a time.
The two soups I plan to make (and then freeze, because canning is a whole other learning curve I'm not quite ready for) are: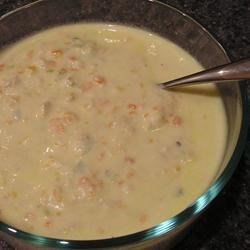 Cream of Chicken Soup
(found at www.allrecipies.com)
4 cups milk
2 tbsp flour
2 tbsp oil
2 tbsp sugar
2 cups chopped, cooked chicken
1/2 tsp salt
1/2 tsp pepper
1/2 tsp garlic
1) In a large saucepan, heat oil. Stir in flour to form a paste. Slowly stir in milk until thickened.
2) Add remaining ingredients and simmer over low heat.
3) Cool completely before freezing.
(We'll use our home-grown chickens, ww flour, and fair trade cane sugar here.
I'll probably reduce the sugar and omit the garlic, but this is the simplest recipe I found so far.)
Cream of Tomato Soup
I'll just include a link here, because
a) it's a fellow blogger - Simple Homemade.net - and I want to share the love, and
b) there are so many brilliant and simple variations, it's easier if you just look for yourself.
By the looks of it, I may never buy a can of soup again! These are just too simple!
I'd love to hear how you go natural in your home.
Update: How it went
.